Your house needs paint and you're weighing the pros and cons of simply painting it yourself.
The truth is, doing your own paint project may be worthwhile in some scenarios specifically for
those with budget constraints whereas those who are pressed for time and or can't be bothered
to do it themselves will look to hire a painting company.
It depends on the individual project as well as your own goals and needs. Oftentimes homeowners and property managers have different goals that will impact how long they have to get a job done, the quality of work they expect, and how much they are willing to spend to accomplish a successfully painted space.
Hiring a painting company will not be the right fit for everybody, and that's okay!
Continue reading to learn more about when to paint your space vs. hiring a professional painter.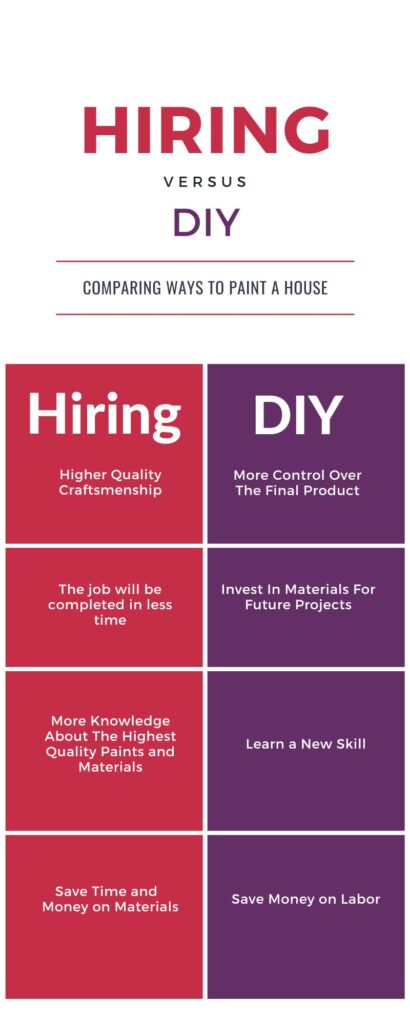 Do It Yourself If…
● You have experience painting and using drywall compound.
● You have the time.
● You are willing to invest in materials.
● You can properly store your paint and other materials.
● You're on a tight budget.
We often see homeowners looking to have a bedroom or two painted. If you identify as a "DIY"
individual, then you will most likely have a better experience painting your own bedroom, home
office or garage. You might have a certain vision for the final result that can be hard to articulate
to another painter.
Other factors such as budget, time, and the size of your project may convince you to buy some
brushes too. If you have the time, we recommend painting it yourself in these circumstances.
Although as a homeowner you would have to invest money into materials and in many
instances spend at least a day or two getting dirty to complete your project.
Remember, larger painting contractors prioritize larger projects such as whole house repaints. It
isn't uncommon for small jobs will get pushed out -sometimes by months to the slower seasons.
Not to mention they'll likely charge you a premium for their skill, as well as needing to cover their
company's overhead.
Here's When to Hire a Painting Company
We've seen this scenario many times: Projects started by homeowners that are too far in over
their heads result in frustration and being overwhelmed. Painting can be a laborious task,
sometimes taking days or even weeks for the average homeowner to finish. Larger projects can
get technical and expensive. Not to mention where are you going to store that 24-foot ladder
you bought to repaint your two-story home, and all those other materials?
If You Want Quality, Find Quality Contractors
Professional painters have years of experience and training. They've seen every foreseeable
problem many times. Therefore, they know how to make your walls look brand new. They have
tons of knowledge on paint brands, brushes, and techniques to ensure top-notch quality. Not to
mention many painters know other homecare specialists such as carpenters, drywallers, and
handymen to help with additional repairs. Whether you live in your home or are renting out
apartments, you can easily tell if the house was painted by a professional or not. Remember,
repainting your space is one of the cheapest ways to boost your property's value.
Read, Repainting Your House Makes it SELL
On top of painting taking a long time to do, it's hard work. Certain tools can weigh upwards of 50
lbs. Never mind moving all the furniture, bending down, and being on your feet all day. Painting
a whole house can take upwards of 50 man hours depending on the size, and can take even
longer for exterior projects and for inexperienced painters. Sometimes it's worth it to let
someone else take over the burden.
If You Need It Done Fast, Hire Fast Contractors
Residential and commercial painting crews have access to more labor, making the job
completed in a shorter amount of time. This means that the inconvenience of having your
furniture and other belongings scattered across your house won't last as long, making the
processes a lot less painful. We have found this to be a big reason for homeowners hiring
contractors.
Keep in mind, with a prevalent labor shortage across the U.S. many companies may be booked
for months. That being said, once a job begins you can expect it to be completed quickly if you
book a professional.
If You Want to Save Material Costs, Hire a Painter
Painting companies have access to a lot more tools than the average homeowner. They tend to
buy their supplies in bulk at a contractor discount. This means that the price per unit for
materials is cheaper than your typical Home Depot or even local paint store. Painters also tend
to use higher quality paints that will last longer extending the life of your paint. Here at ALTOS
Painting & Renovation we prefer going with Benjamin Moore's Regal Select for most interior
jobs.
When you hire a contractor there will be no need to invest in ladders and other tools that you will
likely only get one use out of. Not to mention it will have you space in your shed, basement, or
garage.
If You Want it Clean, Hire a Professional Painter
Paining is such a rewarding experience. This is why we love it so much. It's exciting to watch
spaces transform, and see our customers' faces light up when they see their newly renovated
space for the first time. But that's partially due to the clean up we, and many other painters, do
for our customers.
Preparing a whole house to be painted can sometimes take up to a day. Especially when
moving furniture is required and if there's noticeable wall damage. It also takes a lot of time
going back and forth from stores to get that one tool that you forgot.
Homeowners will typically tape off the walls, trim and ceilings when they decide to paint their
own home. This can take hours. Professional painting teams know how to paint a room without
over-taping, and more often than not, they know how to get the job done without all the sticky
tape. Nuance skills like these will significantly add-up in saving time when painting 5-10 rooms.
If You Don't Want to Gamble Your Life, Hire a Painter.
Exterior painting is dangerous. If you were to fall off a ladder while painting your own house, you
would have to pay for the medical bills, and possibly take time off from your job. (let's pray that
you have insurance!). Hiring will not only save your back and knees, but it may also even save
your life. Licensed, and insured companies assume all the risk. They are typically liable for the
majority of injuries and accidents that happen on the jobsite. Experienced painters have all of
the proper safety gear and training to operate on 40 foot ladders and may even have access to
better equipment such as scaffolding and lifts where necessary.
Assuming you're not willing to roll the dice on your life, hire a professional exterior painter.
If You Want Color Advice, Contact a Painter
If you have ever painted a room before, or even a whole house then you know the struggle. You
walk into the paint store and wander over to the paint chips. There are hundreds if not
thousands to choose from. You could stare at them all day and still not know the difference
between the never-ending shades of blue, green, and grays. You have no idea which one will
look good in your bedroom. Eventually you settle on one, spend a whole bunch of time
painting… and you don't even like the color.
Oftentimes paint will look different on the chip than on the walls. There are so many factors that
go into choosing the perfect paint color. Some of them include the lighting in your space, the
color of your furniture and decor, the type of lighting, and the tone of the paint. Many painters
are color experts who will happily help you. They will be able to tell you which color, tone and
sheen will look the best in your space almost every time.
Now Let's Start Painting
By now you may have decided whether you are going to undergo your own painting project. If
you have decided to paint your own home, but need more resources, consider calling your local
paint store for advice or give us a call at 603-259-4350.
Schedule a FREE estimate + walk-through with ALTOS Painting & Renovation if you're looking
for quality interior and exterior painting service throughout Southern New Hampshire.
ALTOS Painting & Renovation
(603) 259-4350
info@altosnh.com
309 Cilley Rd
Manchester, NH 03103