Prep can be one of the most tedious parts of the painting process, however, it is one of the most important. Without proper prep, your painting project may take hours or days longer than it needs to, and not to mention, it will come out looking sloppy.
Prepping a room for painting properly is the difference between buying a 1999 honda civic and the same civic, but built-in 2023. However, prep is not the only important factor. The quality of paint, quality of materials, and technique will help you reap the most "oh wow's" from your friends and family. It will also add more to your resale value. 
Learn how repainting your house can increase its value: Repainting Your House Makes it SELL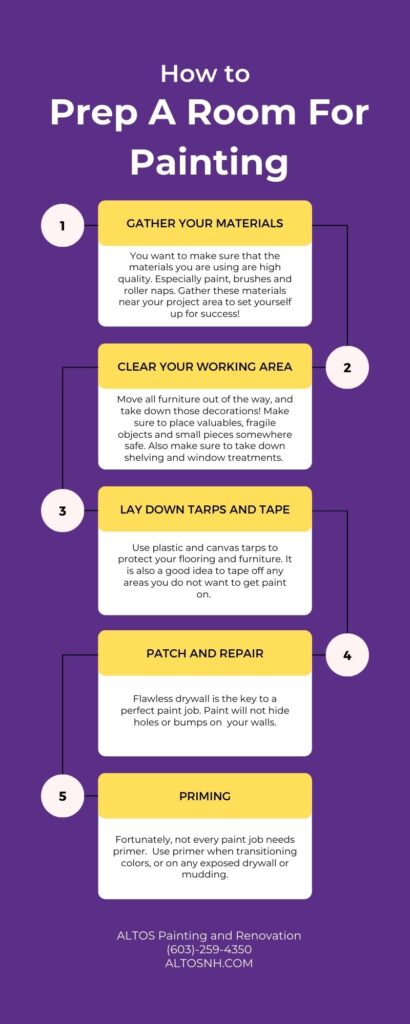 Prepping your space for paint can be broken down into five stages.
Gather your materials
Clear your working area
Apply protective tarps and tape
Patch and repair walls 
Prime appropriate surfaces
Gather Your Materials
Not all materials are made equally. Do a thorough amount of research to see which options are right for you. Cheaper materials will get the job done, but remember cheaper is not always better. If you are looking for high-quality materials we recommend visiting your local Benjamin Moore or Sherwin Williams and talking to a paint expert.
Sometimes buying the highest quality materials is not within the budget (we have all been there). Plus if you are only looking to paint a single room, and never paint again, then you may not want materials with all the extra frills. 
Now that you have all of your materials, you are going to want to gather all of them near your working area. Sometimes it can be too crowded in your working space to store them all in the room (especially when it's full of furniture). We recommend placing them in the hallway or right outside of the area you are painting. If you are unsure about which materials to buy, we have created a pdf with common painting supplies below.
Clear Your Working Area
The first step of clearing the area you are working in is to decide whether you want to move everything into the middle of the room, or if you will need to move everything into another room.
Not all spaces will allow you to work around a pile of furniture because they are simply too small.
Next, you will need to remove all decorations from the wall. This includes shelving, pictures, posters, and other decorations. You will also need to remove all outlet covers and window dressings. Make sure to have a bowl handy to place your screws and small fixtures!
Sometimes you can get away with leaving outlets, shelving, and window treatments up. Although this may look nice, removing these fixtures will save a headache later on if you decide to change the color again. When these fixtures are not removed, they will become painted on, leaving raised bumps and gluing the fixtures to the wall. This may create more damage than necessary if you need to replace outlet covers. 
Here are the steps to remember:
Move all furniture out of the way
Remove all decorations
Remove window treatments
Remove outlet covers
Place all small parts somewhere safe
Apply Protective Tarps and Tape
After clearing your workspace, it is time to unroll the tarps! You will need to cover all surfaces that will not be painted. This includes placing a tarp over all furniture still in the room and tarps on the floor. We recommend using 2.5 mil plastic for the area where you are storing your paint can. If you were to accidentally tip paint over, it will not bleed through the plastic onto the floor.
You may decide to use canvas drop cloths instead or in tandem with plastic coverings. They are less slippery, can be used time and time again, and will protect against most drips.
For creating the most secure area, use a 12" roll of paper (found at most home improvement and paint stores). Roll it out around the perimeter of your area using painter's tape to secure it tight to the floor. Most drips will fall right off the walls onto the floor within this radius, so it is important to secure the area properly. 
If you have a hard time cutting in (applying a straight line of paint) then it may be helpful to tape off areas such as your trim and ceilings. Please use green frog tape or the equivalent and NOT masking tape. Masking tape and other tapes will likely peel the surface and cause damage.
It may take a long time but straight lines are the first telltale sign of a perfect paint job. Painting the ceiling and trim first will help you minimize how many times you need to cut in. Since you will be painting the walls you can fix any imperfections later with your wall cut-ins. 
Patch and Repair
Did you know that you can make your walls look brand new? Most homeowners may not be able to tell the difference. But the truth is, little knicks, holes, and bumps in your drywall add up. It's one of those things where you don't notice what was wrong until it is fixed. With a little bit of mud, sandpaper, and time, your walls will look brand new. Drywall is the secret to a perfect paint job. Without it, paint is merely a band-aid. 
You may not be very good at mudding, and that is okay. There are a ton of resources online to help. Once you have done it once or twice you will start to get used to how the mud works, and how much to sand. One thing to remember is that you must sand, and clean the patches. There are different types of mud out there. Make sure to allow the mud the proper amount of time to dry before sanding or painting.
It is common for window sills to have many layers of peeling paint. If this is the case with your project, then you will either need to sand or strip the paint from these areas.
Priming
Not all paint jobs will need a primer but some will. Here is the general rule of thumb:
Prime all exposed mudding
Prime all exposed drywall
Prime water damage (ask your local home improvement store for the right primer for water damage)
Use primer when transitioning from dark to light
Use tinted primer when transitioning from light to dark
Prime exposed wood. 
Prime cabinets (use something like STIX) for priming.
Contact ALTOS Painting & Renovation for Painting Services + Tips
If you're looking to hire a professional painter in New Hampshire, consider hiring ALTOS Painting & Renovation for all your interior and exterior painting needs. We're fully insured, eager to work, and always do our best to make our customers 100% satisfied. We offer interior painting, exterior painting, cabinet painting, and drywall repair throughout southern New Hampshire.
Even if you're not looking to hire, we're happy to help you with expert advice!
ALTOS Painting & Renovation
(603) 259-4350
info@altosnh.com
309 Cilley Rd
Manchester, NH 03103