Painting may not seem very complicated. It's just applying paint onto some walls right? Well, not really. Simply applying the paint may be okay for some people, but if you are looking for a professional quality job, then this guide will be perfect for you. In this article, we'll go through tips and tricks professional painting contractors use every day to produce stunning, show-quality rooms that will make your home look like a magazine ad.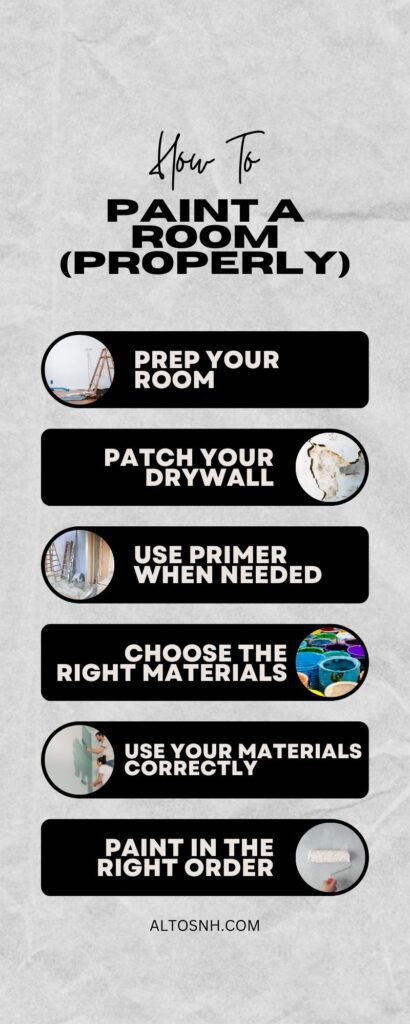 Steps:
Prepare your space properly – How to Properly Prep a Room for Paint

Patch your drywall

Use primer where needed
Choose the right materials 
Use your brushes and rollers properly

Paint in the right order
Step 1- Properly prep your room
Prepping your work area beforehand saves a lot of time. Having all of your tools and materials easily accessible can save you a lot of time. There is nothing more annoying than starting a DIY project and having to go to the store three or four times a day because you forgot something or bought the wrong item. Write a materials list which typically includes: drop cloths, plastic coverings, a waste bucket (5 gallon buckets are preferred), rags, water, and soap mixture within a spray bottle, paint, brushes, and rollers.
You want to make sure that you have all of your tools and materials on hand. Your furniture and decorations are moved out of the way, and your area is protected from drips and spills. This will save you a lot of time cleaning later on. If you are looking for a more in-depth guide to prepping your area properly, check Preparing your room for paint.
Step 2 – Patch your walls
Paint is not a coverall for wall imperfections. It will cover some stains and dirt, but it will not cover all the knicks, holes, and bumps that likely line your walls. Wall damage happens on a regular basis. Repainting your room is the perfect opportunity to step up the appearance of your home and repair any damage before it accumulates further. 
Patching drywall can be tricky at first but do not worry. Like painting, it has a simple step-by-step process. 
Patching drywall steps:
Identify all holes and bumps
Sand down the areas
Apply the mud (wet your compound with ~1 cup of water)
Let the mud dry
Sand down the mudded areas
Reinspect for holes and raised areas
If you need more help learning how to mud your walls, we recommend looking at youtube. There are tons of DIY-friendly renovation videos available. 
Step 3 – Use primer where needed
It is a common misconception that all paint jobs need primer. This is simply not true. There are only certain situations where primer will be needed.
Use stain-blocking primer on water damage
When transitioning from a very dark color to a light color
Use a tinted primer to transition from white to dark
Prime all exposed drywall or mudding
Use primer when painting over a complementary color (the opposite color on the color wheel)
Step 4- Choose the right materials
Cheaper paint and materials can be a bummer to work with. Cheap paint will need 3-4 coats and won't leave the proper finish you were looking for. Low-quality brushes will lose bristles and wont hold the paint as well, meaning you will have to dip your brush into the paint more wasting a lot of time. 
Although home improvement stores have everything you need to paint a room, the quality may be lesser than those of paint stores. Not to mention the staff at a professional paint store have years of experience and training and are guaranteed experts on everything paint. Your local Benjamin Moore and Sherwin Williams will have everything you need for your next painting project and the highest quality materials on the market. 
We recommend using brushes made by Purdy and picking up 1+1/2″, 2″, and 2+1/2″ brushes for most paint jobs.
For our residential and commercial paint jobs, we use Benjamin Moore Regal Select paints and purdy brushes and rollers. We have found these brands work the best for us, although there are a lot of similar products available at the store which will provide a comparable result for cheaper. For most standard rooms you will need about a gallon of paint and 2-3 brushes.
Step 5 – Use your brushes and rollers properly
How to use a brush: Typically, angled 2.5in brushes are the best for interior painting projects. When you first use your brush, you will want to saturate it with paint. This ensures that the paint has made its way into the middle of the brush. This will make your brush stroke last longer. When cutting in with your brush, apply a long strip of paint where you would like it to be. When your brush starts to run out of paint, run your brush along the bottom edge of the stroke. (If you are painting along the edge of the ceiling, this would be the bottom edge.) This is called feathering out. It should look patchy and thin. This will help transition your roller marks into the cut-in seamlessly.
How to use a roller: The same concept applies to using a roller as a brush. You want to saturate it with paint first. Make sure that it is not so wet that it is dripping on the floor. When rolling, start at one side of the wall and make long strokes from top to bottom (when painting walls). You can go two or three wide before you run out of paint. When you are done with those three stripes, run the roller back over lightly to smooth out any paint lines. When starting your next set of lines, overlap your first one with the last stroke you made for a seamless finish.
For your second coat you can usually go four or five wide, Pro tip: do not squeeze the paint out of the roller, it should have enough paint in it to apply a thick coat without much pressure. Make sure that it is not so thick that you are creating drips.
Step 6 – Paint in the Right Order
Now it is finally time to start painting. But before you do so, you will want to give your walls one last sanding. After that, you will need to clean off any dust so the paint sticks properly. 
If you have ever painted a bedroom before then you know how tedious and time-consuming taping off can be. Tape almost never applies in a straight line. If you are as perfectionistic as us, then you know how frustrating this can be. If you want to minimize taping or avoid it together, then you will want to know basic techniques and systems. 
Starting from the top down is the general rule of thumb. When you paint the ceiling first, you will not need to tape off the walls since you will repaint that straight line later. Starting at the top also allows any small drips to be covered later on. You can do this same process with all of your trim. 
When painting with high-quality paint you will only need 2 coats max. Although your paint may say that it is a one-coat cover, it will not be able to get everything. You will notice small specks of the previous color popping through afterward. You may want to tape off your walls and ceiling. If you are someone who is comfortable cutting in (painting a straight line where one color meets another) then you can skip this step. 
If you think you are all done painting, then double-check your work. You are looking for any thin areas of paint, unsanded areas, paint drips, and holes. 
Contact ALTOS Painting & Renovation for Painting Services + Tips
If you're looking to hire a professional painter in New Hampshire, consider hiring ALTOS Painting & Renovation for all your interior and exterior painting needs. We're fully insured, eager to work, and always do our best to make our customers 100% satisfied. We offer interior painting, exterior painting, cabinet painting, and drywall repair throughout southern New Hampshire.
Even if you're not looking to hire, we're happy to help you with expert advice!
ALTOS Painting & Renovation
(603) 259-4350
info@altosnh.com
309 Cilley Rd
Manchester, NH 03103