Your home's interior color reflects your personality and enhances the overall aesthetic appeal. Whether you lean towards the simplistic elegance of minimalist designs, the bold fusion of eclectic styles, or the timeless charm of mid-century modern or transitional themes, the right paint color can transform your space. This article aims to guide you, the homeowner, through the process of selecting a paint color that complements your home's architectural style and boosts its resale value.
Understanding Design Trends
The first step in choosing the right paint color is understanding your home's design theme. Here's a brief look at popular design trends and the paint colors that often complement them:
Farmhouse: This style creates a warm, welcoming atmosphere, resonating with nature-inspired hues. Classic white, soft cream, muted blues, and pastel greens work well with a farmhouse aesthetic.
Transitional: A blend of traditional and contemporary, the transitional design balances comfort with sophistication. Neutral tones like beige, taupe, and gray are ideal for this style.
Mid-Century Modern: This design era marked by simple lines and organic shapes often pairs well with a vibrant color palette. Think mustard yellows, olive greens, and teak browns.
Eclectic: For those who love combining styles, eclectic design allows a bold, unrestricted color palette. From deep blues to vibrant yellows, this style often integrates color to unify disparate design elements.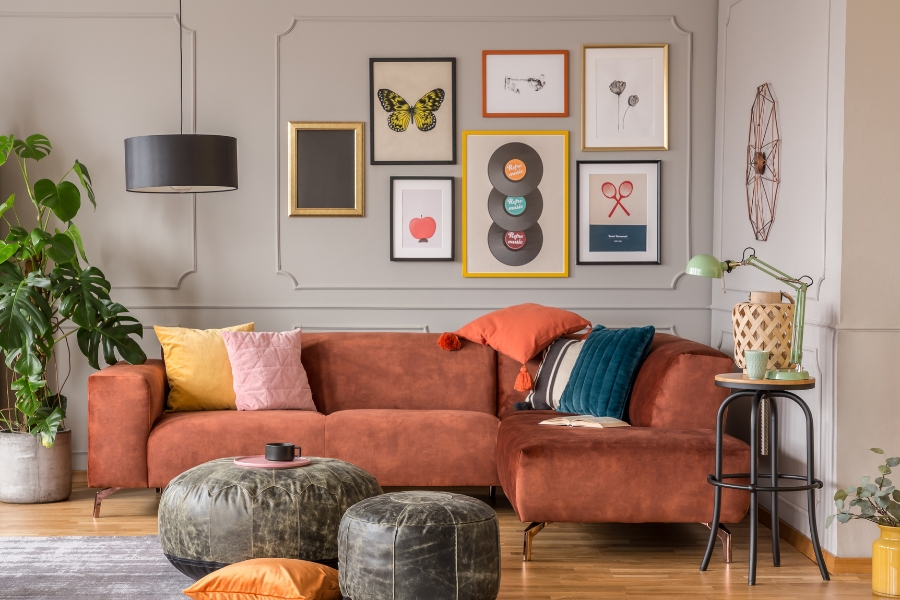 Minimalist: Minimalist design embraces simplicity. Stark whites, cool grays, and subtle blacks work best for this less-is-more style.
Bohemian: This free-spirited style embraces a vibrant mix of patterns and colors. Earthy tones like rich browns and greens, paired with pops of bright color, embody the bohemian ethos.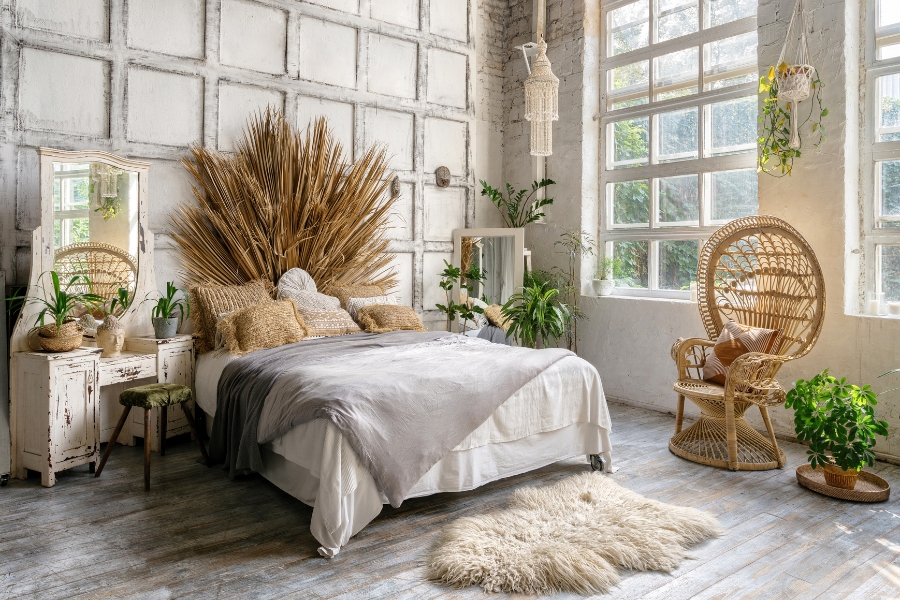 The Effect of Light
Once you've identified your style and potential color options, consider the light factor. The amount and type of light your room receives throughout the day can drastically change the perception of color.
In rooms with abundant natural light, dark colors tend to appear brighter, while light colors can look washed out. In contrast, rooms with little natural light can make colors appear darker. Therefore, before deciding, try paint samples on multiple walls and observe them at different times of the day.
Artificial lighting also influences the appearance of your paint colors. Incandescent lights bring out warm tones, fluorescents favor blue tones, and LEDs can highlight both warm and cool tones. Matching your light source with your paint color can help achieve the desired atmosphere.
Choosing Colors for Resale Value
If you're listing your home for sale, make sure to consider how your color affects the resale value. It's essential to strike a balance between personal taste and market appeal. Neutral colors, including whites, grays, and beiges, have a broad appeal and allow potential buyers to visualize their own belongings in the space.
According to Zillow's 2020 Paint Color Analysis, homes with light blue bathrooms sold for $4,698 more on average than expected. Similarly, houses with kitchens that used different shades of gray fetched $1,809 more. Although trends can change, using soothing, light, neutral colors generally helps enhance resale value.
Final Thoughts
There's no one-size-fits-all solution when choosing a paint color. Your home should reflect your personality and provide a comfortable living space. Don't rush the decision – buy a few samples and try them out in your space before making a final choice. When in doubt, give us a call at ALTOS Painting & Renovation and we'll give you some ideas to play with. Keep in mind the design style, the impact of lighting, and consider future resale value. With these guidelines, you're sure to find the perfect color that will transform your interior into a beautiful and inviting space.
Contact ALTOS Painting & Renovation Today!
Looking to transform your home or property with a fresh coat of paint? Look no further than ALTOS Painting & Renovation, your local painting experts serving homeowners and property managers across New Hampshire and Northern Massachusetts.
In addition to our painting services, we also offer a range of renovation services, including drywall repair, wallpaper removal, and more. Whatever your home improvement needs may be, we have the skills and expertise to get the job done right.
Services
So why wait? Contact ALTOS Painting & Renovation (603) 259-4350 or info@altosnh.com today to schedule a free consultation and estimate for your next painting or renovation project. Let us help you transform your living spaces into the home of your dreams!