Article overview
How are cabinet repaints priced?
Bathrooms
Small Kitchens
Medium Kitchens
Large Kitchens
Whole Houses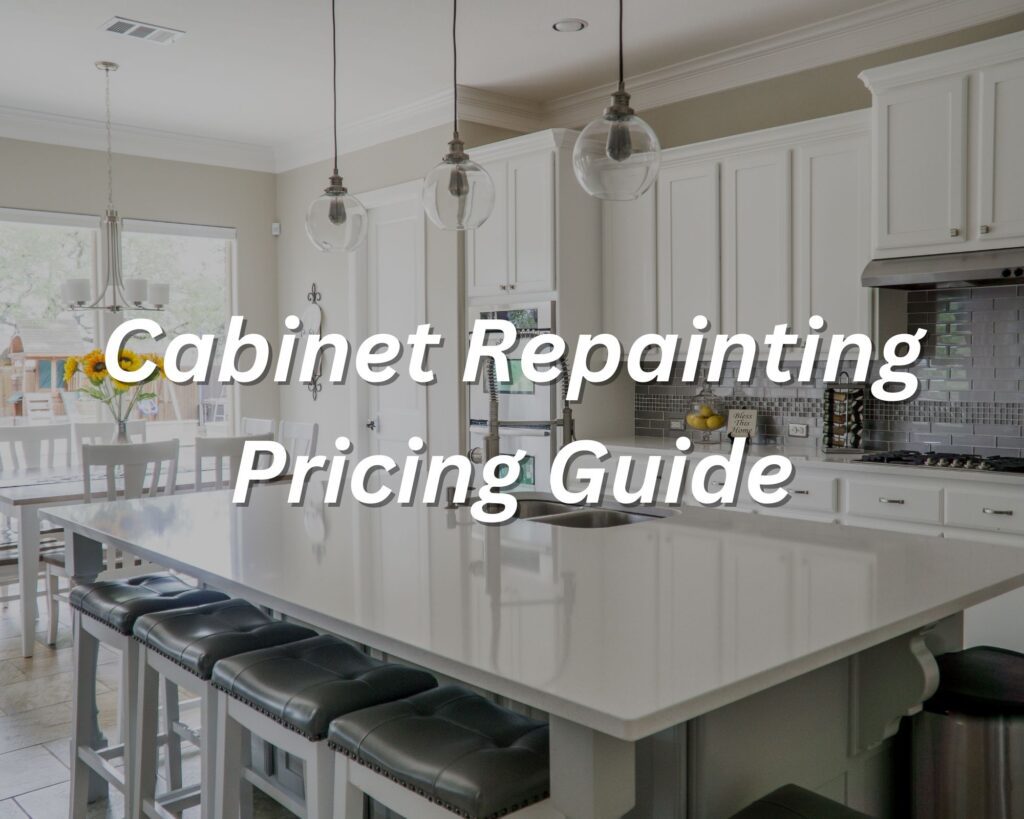 How are cabinet repaints priced?
Typically cabinet repaints are priced per "face". This is each door or drawer. Most doors will cost around $100 to $175 per door and $75 to $125 per drawer. This is how most contractors gauge the size of cabinet repaint projects. 
What makes repainting cabinets so expensive?
If your cabinets are covered in many layers of paint it takes a lot of time to strip the paint off, which will likely be an additional fee. It usually takes about an hour per door/drawer to get this done. Talk to your contractor about what their hourly rate is for pricing. 
Cabinet repaints also include the shell of the cabinets and the backs of all the doors. It takes time to disassemble and reassemble all of the parts, and the items in your cabinets and keep track of all of the parts. 
Cabinets are also usually spray painted or airbrushed, which is expensive equipment that needs a lot of regular maintenance and a trained professional to operate. Additionally, the paint used on cabinets is much more expensive since it has to hold up to regular use, with bumps and scratches. 
Not all cabinets are made equal either. Some have more intricate woodwork, and glass panes, or are very simple designs. Intricacy plays a role in pricing as well. 
If you want a factory finish on your cabinets, then make sure you are hiring a professional with a good reputation.
Bathrooms
Most bathrooms have anywhere from 1-3 drawers and 2-5 doors. Bathrooms cost anywhere from $500 to $1,200. Smaller rooms such as bathrooms usually cost more per door since painters usually provide a volume discount for larger repaint jobs. 
Small Kitchens
Small kitchens are priced in the range of $2,000 to $4,500 depending on size. Small kitchens typically have anywhere from 3-5 drawers and 8-15 doors.
Medium Kitchens
Medium kitchens will cost you around $4,500 to $6,000. These kitchens usually have somewhere between 5-10 drawers and 15-25 doors. 
Large Kitchens
Large kitchens consist of 10+ drawers and 25+ doors. These kitchens usually have islands and pantries built into the room. Larger kitchens cost $6500 on the lower end and $8500 on the higher end.
Whole Houses
We have seen cabinet repainting jobs go for anywhere between $5,000 for your standard one-bathroom, 1000sq ft house to $18,000 for large houses with multiple bathrooms, large kitchens, and separate pantries. 
NOTE ON PRICING: The numbers reflected in the pricing guides for the different rooms are for labor only. The cost of paint, travel and company profit will be added to these prices. These are more variable costs so they have not been included in this guide. Not every company has the same rates. If you are interested in checking out our rates read our interior painting price guide. 
Conclusion
Hiring a painter doesn't have to be confusing and tedious. It doesn't have to be expensive either. There are so many ways to lower the cost of painting your house. If you know another way to lower the cost of painting your house, comment below. It may just help someone save some money and headaches!
ALTOS Painting & Renovation
(603) 259-4350
info@altosnh.com
309 Cilley Rd
Manchester, NH 03103